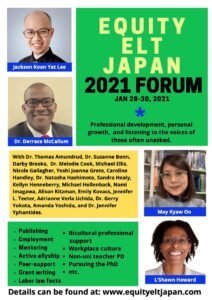 Mission
This event will focus on providing practical skills and approaches for professional development (PD) to all members of the ELT community in Japan. The aim is to create a positive, safe environment for marginalized and underrepresented members to share their voice and experience in order to bring about awareness of issues as well as opportunities to work together towards developing resolutions. We aim to highlight both the ease and necessity of PD and create dialogue that inspires a community to be both empowering and empowered. 
"Equality in ELT Japan" will be changing its name to "Equity ELT Japan" to reflect its growth and development over the last two years, in particular the understanding that equity (people having access to the opportunities that benefit them in the best way possible) is a much more pertinent goal than equality (people having access to the same opportunities). This has been a great learning process, sometimes a bit painful and hard, but we hope that others will join us on this journey to better support those within the ELT community that are not always recognized for their value to and knowledge of our profession. 
The theme of the conference will be "Professional development, personal growth, and listening to the voices of those often unasked." 
To see the schedule please

click here

.
Forum Donations
The Equity ELT Japan 2021 Forum is free of charge but we encourage donations to the groups below:
Second Harvest Japan (2hj) is the oldest and only nationwide foodbank in Japan. Since 2002, they have been working to improve food security while reducing food waste. Second Harvest Japan aims to create a Food Safety Net in Japan. In order to do so, they deliver food to children's homes, single-mother shelters, centers for the disabled as well as many other welfare organizations and individuals in need. In order to deliver enough food to those who lack food security, 2HJ cooperates with food manufacturers and other companies and hopes to use food to create new partnerships between corporations and the community. (Equity ELT Japan team member, Jennie Roloff Rothman has been volunteering at, and supporting 2hj since March 2012.)
Please click here to be taken to their webpage. 
To donate money please click here.
To donate food please click here.
Heart Tokushima (HEART) is a registered NPO no kill animal shelter run solely on a volunteer basis and funded entirely through donations.  They are based in Tokushima, Japan and their aim is to build a community in which companion animals can live free from suffering or cruelty. Their activities include rescue, care and re-homing of stray, abandoned, abused and neglected animals.  They also promote spaying/neutering and responsible pet ownership through education and supportive means. They recently opened the first ever spay clinic in Shikoku in September 2020. (Website founder, Tanja McCandie, has been volunteering with HEART since 2013 and has adopted two dogs from them.)
Please click here to be taken to their webpage.
To donate to Heart Tokushima via PayPal please click here.
To purchase goods from their charity shop please click here.
To purchase goods for the shelter from Amazon please click here.
Colabo, a partner organization of Second Harvest Japan, runs the late night Tsubomi Cafe bus as a shelter for teen girls in Shinjuku and Shibuya Wards of Tokyo city. They are working to create a society in which all young women have clothing, food, shelter, and people they can rely on. Another goal is to prevent young women in trouble from being exploited or exposed to violence.
Please click here to be taken to their webpage. 
To donate to Colabo please click here.
Organising Committee
We, the committee, acknowledge that being White, L1 English speaking, cisgender women bestows some privilege upon us. We strongly believe in the value of all voices and experiences, and thus hope to use our platform to provide a microphone for others. We hope in the upcoming years many of you will work with us so we can all work together to improve the forum. 
Tanja McCandie 
Gretchen Clark
Jennie Roloff Rothman
Eleanor Smith
Jamie Taylor