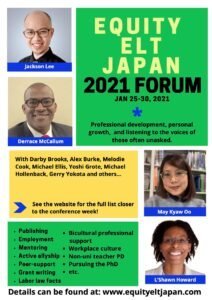 The Equity ELT Japan Committee is pleased to invite presenters to submit abstracts for "Equity ELT Japan 2021 Forum", which will take place online from January 25th – 30th. 
Mission
This event will focus on providing practical skills and approaches for professional development (PD) to all members of the ELT community in Japan. The aim is to create a positive, safe environment for marginalized and underrepresented members to share their voice and experience in order to bring about awareness of issues as well as opportunities to work together towards developing resolutions. We aim to highlight both the ease and necessity of PD and create dialogue that inspires a community to be both empowering and empowered. 
"Equality in ELT Japan" will be changing its name to "Equity ELT Japan" to reflect its growth and development over the last two years, in particular the understanding that equity (people having access to the opportunities that benefit them in the best way possible) is a much more pertinent goal than equality (people having access to the same opportunities). This has been a great learning process, sometimes a bit painful and hard, but we hope that others will join us on this journey to better support those within the ELT community that are not always recognized for their value to and knowledge of our profession. 
The theme of the conference will be "Professional development, personal growth, and listening to the voices of those often unasked." 
The method for presenting will be either a synchronous Zoom session or a VoiceOver video + Live Q&A via Zoom. The presenter needs to be available in Zoom for both methods, however the 'VoiceOver video' version allows for some flexibility. If you have other ideas about how you can participate please let us know. We'd be happy to discuss this with you.
Topics of Interest

 
Topics of interest include, but are not limited to:
Resume writing 
Job applications 
Job interviews
Peer support 
Peer editing 
Mentoring
Allyship
Getting published
Finding research partners
Grants
Navigating the workplace culture
Furthering PD via advance degrees such as MA and PhD studies
Primary and secondary teacher development in uni-centered Japan
Guide for Presenters
We welcome submissions related to any of the above topics of interest in the format of a presentation, workshop, or panel. 
In your submission, please include:
Your name and pronoun.

Preferred contact email 

Related topic of interest 

Working title 

150-word abstract 

Proposed length (up to 45 minutes)
Please click here to write your submission in the Google form. The deadline is December 6th.  
Upon receipt of all submissions, we will notify you of scheduling options by email.
If you are a primary parent please tick the box to give you scheduling priority. 
Enquiries
Please direct any enquiries to equalityeltjapan@gmail.com or equityeltjapan@gmail.com
Organising Committee
We, the committee, acknowledge that being White, L1 English speaking, cisgender women bestows some privilege upon us. We strongly believe in the value of all voices and experiences, and thus hope to use our platform to provide a microphone for others. We hope in the upcoming years many of you will work with us so we can all work together to improve the forum. 
Tanja McCandie 
Gretchen Clark
Jennie Roloff Rothman
Eleanor Smith
Jamie Taylor